Products & Services
EMC Solution Services
Accreditation / Certification / Registration
We provide EMC testing services to comply with the standards of each country and region.
The scope of our EMC center is as follows.
Accreditation
VLAC (Voluntary EMC Laboratory Accreditation Center)
Accreditation No.: VLAC-045
VLAC is an accreditation body for testing laboratories and officially certifies that a laboratory is competent to perform tests for electromagnetic compatibility (EMC), noise, communications equipment performance, power consumption, and electrical safety.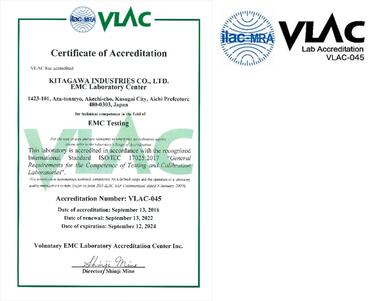 Certification
VCA (Vehicle Certification Agency)
VCA Coverage
1. ECE R10.06 ESAs Emission
2. ECE R10.06 ESAs Immunity
※ The test results conducted at our EMC center can be used to obtain E-Mark certification.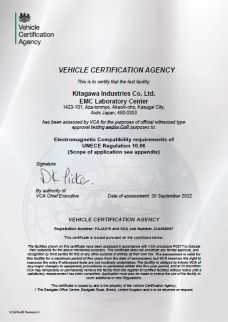 Registration
VCCI (Voluntary Control Council for Interference by Information Technology Equipment)
Registration No.: A-0253
Measurement Coverage
1. Levels of radiated disturbance (1GHz ~ 6GHz)
2. Conducted disturbance at mains ports
3. Conducted disturbance at telecommunication ports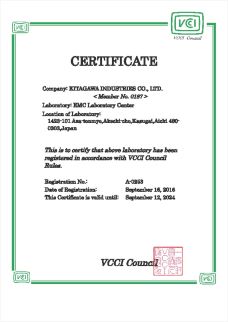 Mazda Motor Corporation
Mazda Motor Corporation registered our EMC center as one of the Mazda's EMC testing laboratories.
EMC test items for in-vehicle equipment can be performed.
Coverage
1. Tri-plate radiation test
2. Close-proximity radiation test
3. ALSE method - Radiated emissions test
4. Transient pulse test
5. Electrostatic discharge test
6. BCI (bulk current injection) test
7. Radiated emissions
8. Conducted emissions (voltage method)
9. Conducted emissions (current probe method)
※ Please contact us for other tests.
Inquiry form for EMC solution services
Please use the following form for asking our EMC solution services, EMC centers and/or the technical details.
If you are a website member, you can easily ask inquiry after Login.